Principal's Message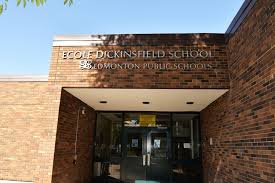 WELCOME to DICKINSFIELD
BIENVENUE à DICKINSFIELD
C'est mon grand plaisir de vous donner le bienvenue a notre école. I am thrilled to welcome you to our school. We are the Home of the Panthers, les Pantheres. We are very courageous, brave, strong, and intelligent. This is exemplified in our excellent Student Leadership program, our academics and our athletics. At our school, we emphasize COMMUNITY, CAREER, and RESPONSIBILITY. We take time to get to know each other, to work with each other, and to listen to one another. We take time to do our best in our studies. You, of course, know of our namesake PUNCH DICKINS - the famous World War I pilot and Canadian northern bush pilolt! If you don't, please come by and we will share the philosophy of PUNCH, DICKINS and the snow EAGLE!!
The staff at our school invite you to take full advantage of the Dickinsfield DIFFERENCE where the learning experience is enjoyable and stimulating, and where everyone is valued for their special gifts.
The Dickinsfield DIFFERENCE will allow you to experience:
core subject instruction where we are making great strides to exceed district and provincial averages in both the English and French Immersion programs.
a Fine Arts program that truly engenders a love of the visual and the performing arts;
a broad spectrum of athletic opportunities embracing all junior high team and intramural sports;
a wide variety of activities in Career and Technology Foundations;
an extensive student leadership program where students have the opportunity to make decisions in the school and to prepare for their leadership role in the future;
a number of other exciting options that allow students to explore the world beyond their curriculum and beyond the school, and
a sense of belonging, as students participate in a strong intramural program based upon a cross-grade house system.
The Panther Path to academic, athletic, artistic, technological, and societal excellence will allow you to experience a school that has a safe andcaring environment, within which we will all be challenged to do our very best. You, the student, will be expected and be assisted to become responsible, active participants in your own learning.
A ceux qui parlent français, j'attends avec impatience le commencement de la nouvelle année. Préparez-vous d'être prêt pour l'école et prêt pour apprendre. Bienvenue à la DIFFÉRENCE de DICKINSFIELD.
Yours truly et sincèrement,
M. R. Butlin K. Proudfoot