Principal's Message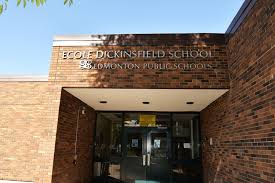 WELCOME TO DICKINSFIELD SCHOOL 2023 - 2024! BIENVENUE À DICKINSFIELD!
Welcome to the 2023 - 2024 school year. At Ecole Dickinsfield School we are committed to learning through connection with our students, community members and each other. I am excited to welcome our new and returning Panthers this new school year where we believe that all our students have the ability to do great things . We want students to apply their learning and make connections to what is happening in the classroom and the world around them through meaningful and engaging learning. Literacy and Numeracy continue to be a primary focus and all students will have regular targeted support throughout the year. Dickinsfield is a vibrant school with many programs to support students in their academic journeys. Including; Connections, Strategies, French Immersion and Regular programming.
Parents and guardians, I am always open to conversation and questions. Please feel free to contact me when necessary. Families will receive information related to special school events, meetings, and other information via
SchoolZone.epsb.ca
. SchoolZone also gives families access to school information, progress reports, attendance information and specific classroom news. If you require a password for SchoolZone, or assistance with using it, please contact the office.
Together we look forward to supporting all our students!
Sincerely,
Chelsea Erdmann