Principal's Message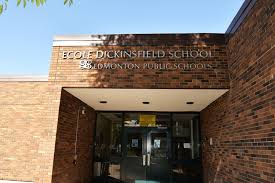 WELCOME TO DICKINSFIELD SCHOOL 2021 - 2022! BIENVENUE À DICKINSFIELD!
This year will continue to be unique as we navigate the ever-changing face of the pandemic. I am proud of the efforts of the Division and my entire staff at École Dickinsfield School. We are all working diligently to ensure your child's safety while slowly reintroducing more freedoms and a return to things we have always loved such as clubs, events, field trips, and sports teams. I want to extend sincere gratitude to all of our families and students for being flexible, patient and for working with us to keep everyone safe. I know these are not easy times, but I do deeply appreciate the kindness and respect with which everyone is conducting themselves.
Dickinsfield School gets its name from Punch Dickens. Clennell Haggerston "Punch" Dickins (January 12, 1899 – August 2, 1995) was a pioneering Canadian aviator and bush pilot. He was known as "Snow Eagle;" "White Eagle;" and the "Flying Knight of the Northland". Punch was born in Portage la Prairie, Manitoba, and moved with his family to Edmonton, Alberta in 1909. Rumor has it that his nickname of "Punch" was given to him by his aunt because his clothes wouldn't stay down over his fat, little tummy! Punch was enrolled in mechanical engineering at the U of A but left school to fight in the First World War. He became a bomber pilot. It was claimed he eventually shot down seven enemy aircraft, earning the distinction of being one of the few bomber pilots to become an Ace. His skills earned Punch the Distinguished Flying Cross at age 20 in 1919. After the war, he worked at General Motors, earned a commercial pilot's license in 1921, and then joined the Royal Canadian Air Force where he served as Flying Officer. Punch then became a bush pilot in the Arctic and was responsible for many landmark flights where he often flew under conditions few others could. Punch became a Superintendent in the Second World War and was responsible for training combat fliers. After the war, Punch went on to consult on aircraft construction. Punch flew until he was 78 years old. He died in 1995 and will live on as a man who made outstanding contributions to Canadian aviation.
I look forward to building upon all that is amazing about Dickisfield School in a spirit of continuous improvement. Please know that I welcome your input! Please check SchoolZone often to make sure you have the latest school news and feel free to call or email me at any time.
Yours in partnership,
Cynthia Kelly, Principal, École Dickinsfield School
(P) 780-476-4646 (E) cynthia.kelly@epsb.ca